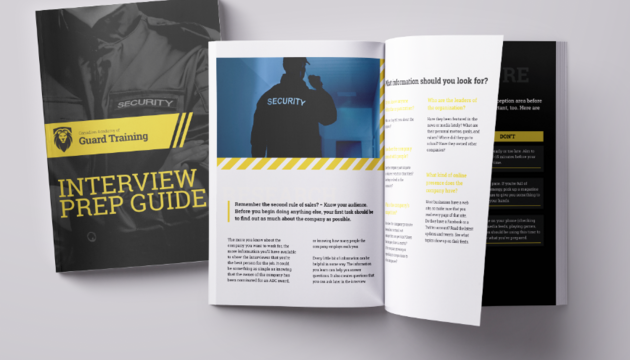 Note: Our course modules work best on the latest version of Google Chrome. If your course is not loading, update your browser and/or check your internet connectivity as a first step.
Canadian Academy of Guard Training - Interview Prep eBook
Course Description
The Interview Guide eBook is a one-hour read that will give you the insights, tools and strategies you need to ace your interviews. Go into your next interview confidence and prepared with these new skills. All of the strategies you will learn are based on real-world experience from leaders in the industry, who have been on both sides of the interviewing table.
Topics include:
2 rules for persuasively selling your skills
How to research and prepare for an interview
Simple ways to impress from the moment you arrive
Spotting and eliminating interview flaws
Proven, scripted responses to even the toughest questions
The 10 most common interview questions
How to make interviewers like you — without words
Tricks for turning weaknesses into strengths
The questions to ask to impress your interviewer
Interview Prep Checklist