{{ notice }}
{{ warning }}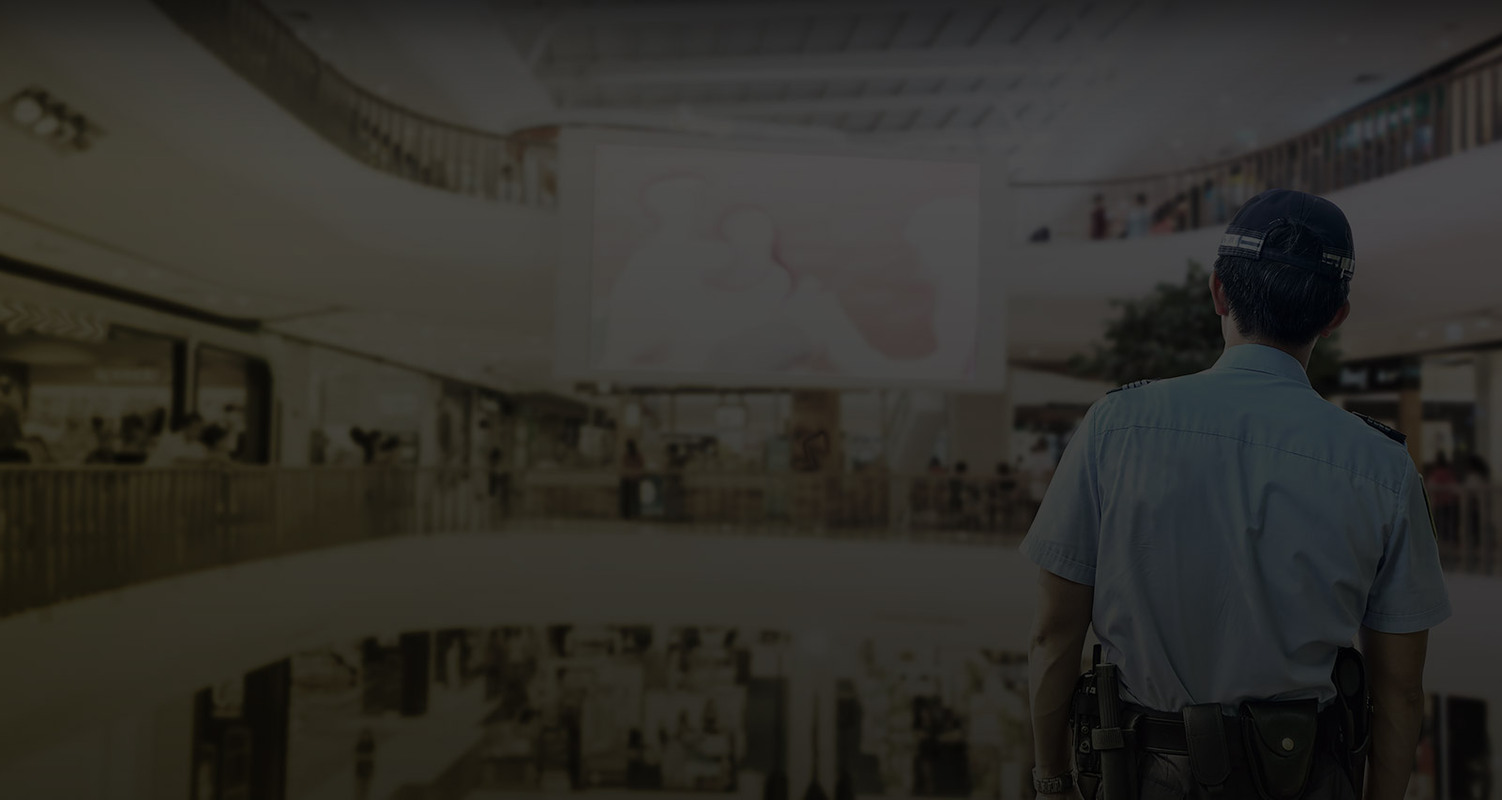 Professional Security Guard Training
Fast Paced Online Security Guard Training gets you trained, licensed and employed - quickly and easily. Learn about security roles, patrol tactics, handling difficult people and much more. Your Future is Waiting
SHOP NOW
Train with Canada's Top Online Security Training
Register and Start your Training Instantly!
Why Train with Guardtraining.ca?
→ Basic and Advanced Training
→ Instant Course Access
→ Register Quickly
→ Train from Home
→ Large Job Market
→ Mobile Friendly
→ Government Approved
→ Exam Booking Help
Our course is easy to start, easier to pass and designed to help you become a strong, successful guard. Since 2007, over 6,500 people have become guards after taking our course.
Where Can you Work as a Security Guard?
Airport Security
Mall Security
Personal and Executive Protection
Night Club or Bar "bouncer"
Loss Prevention Security
Concierge
Special Event Security
Mobile Patrol
Security Guard Companies
We have been training security guards since 2007 and our modern platform, engaging content, and interactive course will teach you everything you need to know to prepare for and pass the course and the exam.
Additionally, we can provide a supplemental study guide for you - AT NO ADDITIONAL COST to help you understand what you need to know.
Learn Why Thousands Have Trained With Us
Get a Security Guard Job
In Canada, security guards need to be licensed. To get the license, you'll need to pass training and licensing exam. Let the Canadian Academy of Guard Training help you get the training you need, prep and pass your exam and get licensed right away!
Online Training means you can begin your training as soon as you register. You can learn at your own speed and finish whenever you want. The course is available for you to access day or night, 7 days a week. When you are ready, apply to write the licensing exam in your province.
Our Basic Security Guard Training is Approved in:
Alberta (ABST)
Manitoba (MBCTP)
Saskatchewan (SBST)
Learn About
The Law
Fundamentals of Security
Your Rights and Responsibilities
Patrol Tactics
Handling Labor Relations
De-Escalation Techniques;
and more..
Our Security Guard Training program combines video elements, quizzes, and interactive elements to prepare for the Provincial Exam.

Don't feel required to attend a classroom, learn from home on any device you own. At the end of each section, there will be a short quiz to ensure you retain the information.


Exam price not included with the basic course. The exam is included in the → fast track bundle.
Supported 7 days/week by a live Help Desk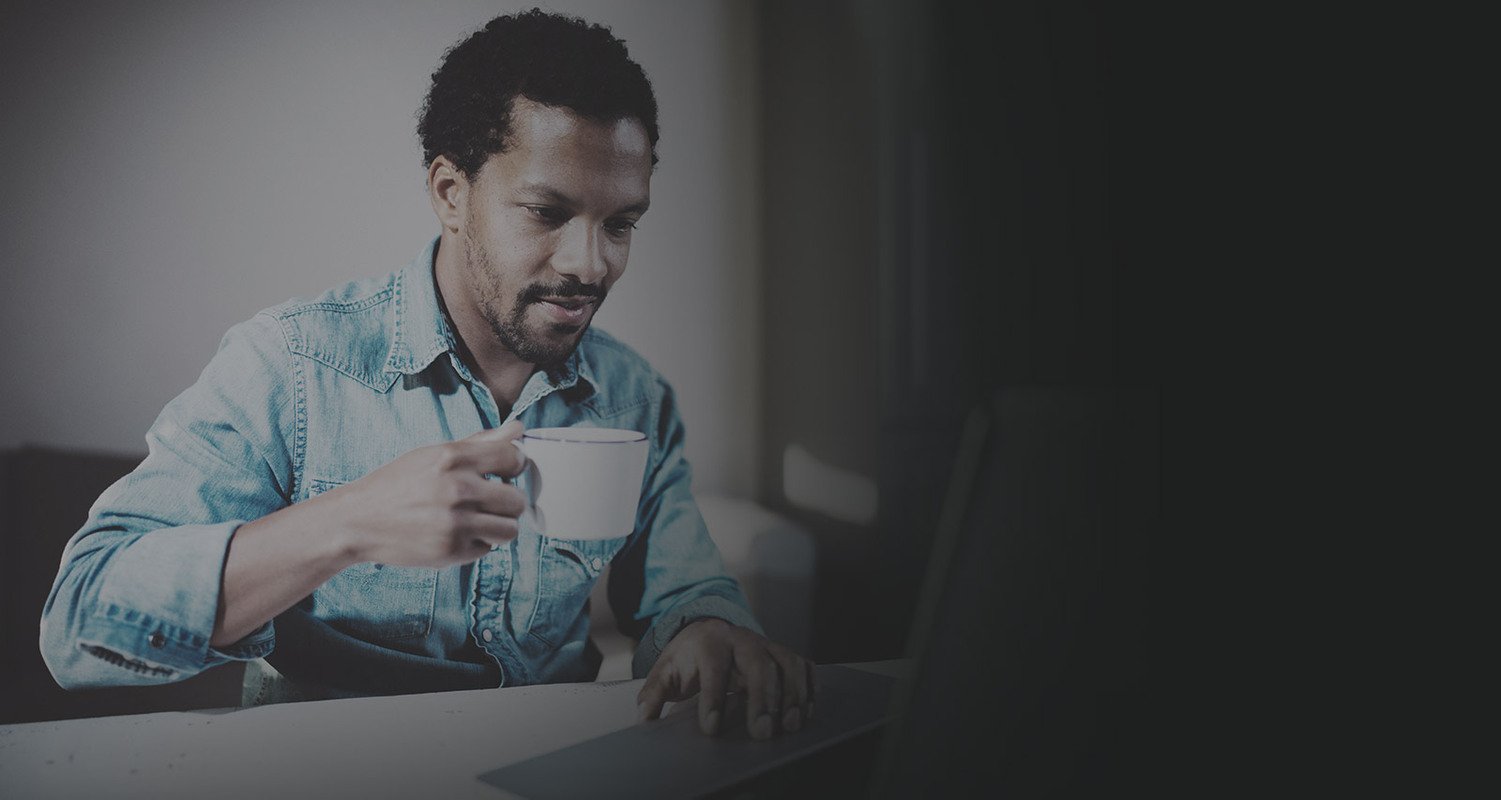 Each module is designed to help you pass the security guard exam on your first try, so you can get to work faster.
Review the course outline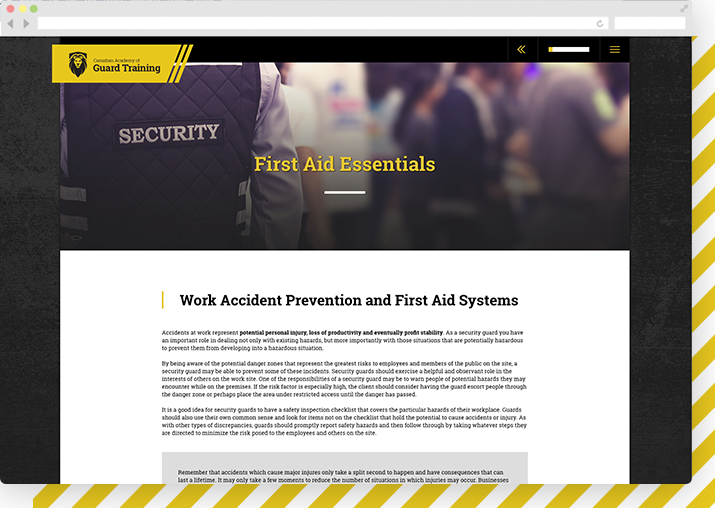 Get Hired Quickly with Help From Us
Our training doesn't stop at helping you pass the exam. We want every Canadian Academy of Guard Training graduate to have their choice of the best security jobs available. With basic training and free bonuses, you can be the best applicant for the job.

You'll get:
FREE bonus training on advanced security topics
FREE bonus training on soft skills better employers demand
FREE interview prep materials
Impressive digital certificates on a mobile app
Course Outline
The Basic Security Training program meets the full requirements for licensing education in Ontario, Manitoba, Saskatchewan and Alberta.
A mandatory 40-hours of training, the course includes:

65 quizzes and chapter tests
Core curriculum:
Workplace Safety and Health Act
Personal Safety at Work (Provincial)
Working Alone Plan
Landlords & Tenants - The Law and You
Human Rights
Other key topics:
The role of a security guard
Physical security and crime prevention
Classification of information
Computer security
Workplace accident prevention and first aid
Preventing infection - blood-borne pathogens
Professionalism and public relations
Ethics, deportment and professional conduct
Handling customer complaints
Diversity awareness and sexual harassment
Telephone techniques
Handling crisis and the media
Dealing with angry, and disturbed persons/ strategic verbal strategies
Interacting with disturbed persons
Dealing with intoxicated individuals
Crowd control
The security officer and the legal system
Powers of arrest
The Criminal Code / Canadian Legal Authority
The Charter of Rights and Freedoms
Use of force
Access control and alarm systems
General patrol techniques
Note taking and report writing
The rules of criminal evidence
Response to immediate crisis
Fire detection and prevention
Categories of fire
Types of extinguishers
HAZMAT awareness
Responding to bomb threats
Evacuations
Traffic control and direction concepts
Labor disputes
Interacting with others in the justice system
Security and police relations
Appearing as a witness
Accident scene management